Double Chocolate Agave Ring
___ cup butter
_ cup agave
_ eggs
1 teaspoon vanilla extract
_-3/4 cups flour
___ cup unsweetened baking cocoa
_ teaspoons baking powder
_ teaspoon salt
_ teaspoon baking soda
___ cup dairy sour cream
_ cup semisweet chocolate chips
___ cup chopped nuts
White Chocolate Glaze

WHITE CHOCOLATE GLAZE:
_ ounces white chocolate
_ teaspoons milk

Double Chocolate Agave Ring is from the Cook'n with Agave collection.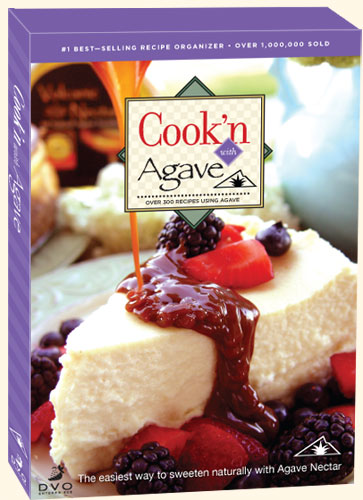 Click here to view over 300 more agave recipes right now!

Only $14.95 for the CD!


Cream butter in large bowl with electric mixer; gradually add agave, beating until light and fluffy. Add eggs, one at a time, beating thoroughly after each addition. (Mixture may appear slightly curdled.) Beat in vanilla. Combine flour, cocoa, baking powder, salt and baking soda in small bowl. Add dry ingredients alternately with sour cream to butter mixture. Fold in chocolate chips and nuts. Pour batter into greased 12-cup fluted tube pan.

Bake in preheated 325°F oven 50 to 55 minutes or until wooden toothpick inserted near center comes out clean. Cool in pan on wire rack 10 minutes. Remove from pan and cool completely on wire rack. Glaze with White Chocolate Glaze, sprinkle with additional cocoa and garnish with flowers, if desired.

WHITE CHOCOLATE GLAZE: Melt white chocolate in top of double boiler. Stir in milk. Drizzle glaze over cake with spoon.
Volcanic Nectar - Agave Nectar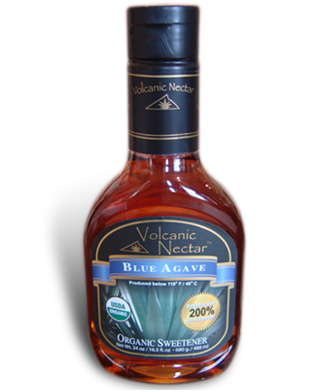 Turn your recipes into sensations with a 24 oz bottle of Agave Nectar! Perfect for pies, pastries, ice creams, cookies, pancakes, drinks, smoothies, and baked goods.
The ONLY Agave to have all of these!


REMEMBER: FREE Shipping on all Purchases of AGAVE NECTAR when you spend over $45!!!