Indian Bread
___ cup yellow cornmeal
___ cup rolled oats
___ cup whole bran cereal
___ cup wheat germ
_ cups boiling water
_ (1/4-ounce) packages yeast
___ cup warm water
___ cup agave
_ tablespoons butter
_ teaspoon salt
_ cups whole wheat flour
_ cups unbleached flour

Indian Bread is from the Cook'n with Agave collection.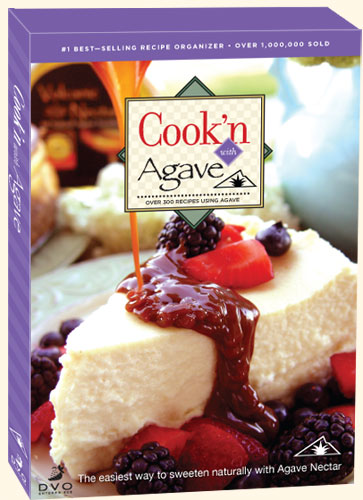 Click here to view over 300 more agave recipes right now!

Only $14.95 for the CD!


In a 1-quart glass measuring cup or bowl, combine cornmeal, oats, bran and wheat germ. Pour in 2 cups boiling water. Stir thoroughly. Set aside to cool. Place yeast in large mixing bowl. Add 1/2 cup warm water. Stir to dissolve yeast. Add agave, butter and salt. Mix thoroughly. Add cooled cornmeal mixture. Stir until smooth. Stir in whole wheat flour. Gradually add unbleached flour, one cup at a time, until mixture is stiff enough to knead (about 2 1/2 cups). Sprinkle remaining flour on board. Knead dough for 10 to 12 minutes until smooth. Add additional flour as necessary. Shape dough into ball. Lightly grease clean mixing bowl. Place dough in warm, draft-free place until doubled in size (about 1 1/2 hours). Punch down dough to remove air bubbles. Turn out onto lightly floured board. Divide dough in half. Shape each half into a round loaf. Place loaves on a large lightly greased cookie sheet or 2 pie plates. Cover. Place in warm, draft-free place until double in size (about 1 hour). Bake in preheated oven at 350°F for 40 to 50 minutes or until bread sounds hollow when tapped. Remove loaves from cookie sheet. Cool on wire racks.
Volcanic Nectar - Agave Nectar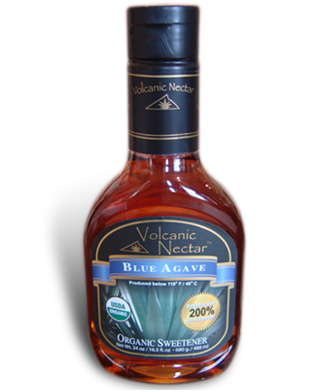 Turn your recipes into sensations with a 24 oz bottle of Agave Nectar! Perfect for pies, pastries, ice creams, cookies, pancakes, drinks, smoothies, and baked goods.
The ONLY Agave to have all of these!


REMEMBER: FREE Shipping on all Purchases of AGAVE NECTAR when you spend over $45!!!