Agave Pecan Baby Back Ribs
_ pounds beef baby back ribs cut into 4 to 5 rib racks
___ cup agave, divided
_ tablespoon black pepper
_ tablespoon paprika
_ tablespoon salt
___ teaspoon garlic powder
Vegetable oil cooking spray
_ cup toasted pecans, ground fine
_ tablespoons all-purpose flour
_ (18-ounce) bottle prepared barbecue sauce
Toasted pecan, for sprinkling on finished ribs

Agave Pecan Baby Back Ribs is from the Cook'n with Agave collection.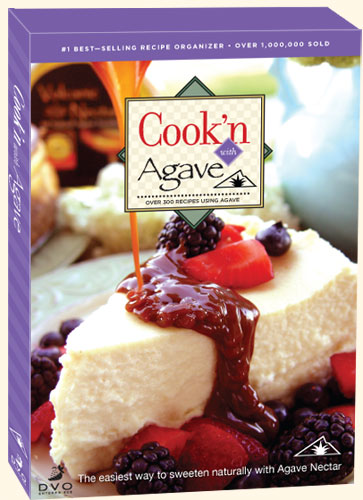 Click here to view over 300 more agave recipes right now!

Only $14.95 for the CD!


Preheat grill to 300°F or medium heat. Lay each rack of ribs on a large piece of foil. In a small bowl, combine 1/3 cup agave, pepper, paprika, salt and garlic powder. Rub both sides of each rack with 1 tablespoon of the mixture, divided evenly. Wrap foil around racks to form packets. Place foil packets seam-side up on grill rack and put down the cover and bake in the grill about 1-1/2 hours. Remove ribs from the grill, spray grill racks with vegetable oil spray and fire up the grill up to medium-high.

Combine pecans and flour. Remove rib racks from foil and press pecan mixture onto meaty side of each rack. Combine barbecue sauce and 1/3 cup agave. Drizzle pecan crust with agave barbecue sauce to cover. Grill each rib rack over medium heat 2 to 3 minutes, starting with the bare side and brushing on more sauce as desired. Turn and baste the ribs until they are caramelized. Sprinkle with additional toasted chopped pecans and extra agave barbecue sauce and serve.

Volcanic Nectar - Agave Nectar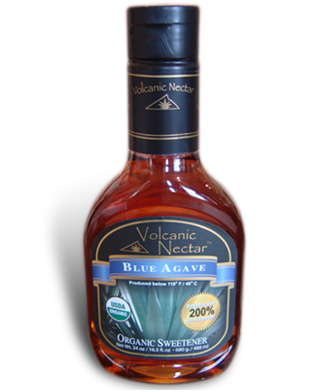 Turn your recipes into sensations with a 24 oz bottle of Agave Nectar! Perfect for pies, pastries, ice creams, cookies, pancakes, drinks, smoothies, and baked goods.
The ONLY Agave to have all of these!


REMEMBER: FREE Shipping on all Purchases of AGAVE NECTAR when you spend over $45!!!